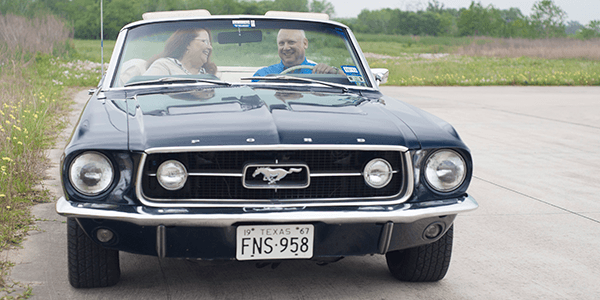 His brow is crinkled in concentration. His eyes are fixed on his hands, his fingers bolting a crankshaft to an engine block. His adjustments are keen, exact. He tinkers until he achieves tight connections so that the shaft connects precisely to the cylinder, pistons, connecting bearings and sparkplugs. In his mind, he envisions fuel igniting, pushing the piston down, causing this shaft - now in his hands - to rotate and accelerate the chassis of the 1952 Jaguar XK120 over which he presently leans.
As he leans back, smiling his grandfatherly smile, he recalls when he first fell in love with automobiles. "My grandfather owned a service station in Altoona," Carl Baxter says.
Carl's ability in engineering comes naturally. As a hands-on former owner of Baxter Machine Products, he created specialized doo-dads such as shafts, pulleys, adapters and more. In short, he helped create parts for industry that went into everything from diesel locomotives to cable television amplifiers, those tiny boxes on telephone poles.
Because of his success at work, Carl never finished his bachelor's degree. "I met the love of my life, worked and had kids," he says with a smile. "I had everything in life at a young age a guy could want."
Carl's mother was widowed when he was four years old. The family was originally from Altoona and it was there, during summer break from college, that Carl saw a newspaper ad for a draftsman in Huntingdon. He came to Huntingdon, telephoned the Huntingdon Machine Company, and - despite the fact that they had not placed the ad - was hired. Carl, who had been attending Tri-State College for Mechanical Engineering in the state of Indiana, transferred to Penn State University for Industrial Engineering after being asked to stay on at Huntingdon Machine.
Carl left Penn State as his career advanced and family life happily interrupted, but education is never far from Carl's mind. "I had a tough time getting an education and what I did get, I earned... You're not like a regular student when you're working all the time. Every minute I wasn't involved with studies, I was working. When I looked back at it, I didn't want other kids to go through that."
And so Carl's role in manufacturing connections didn't end with pieces of copper, brass and steel. He connected college students he'd never met with exemplary educational experiences at Juniata in a unique way.
After selling Baxter Machine products to a larger corporation in 2008, Carl called Juniata President Thomas Kepple and was told he'd have a choice of several ways to donate to the College. Carl chose a way that benefitted the College, Huntingdon, his family and himself through a Charitable Lead Trust.
"The College can use the money immediately and, in the long-term, our family will get a portion back... It's a win-win for Juniata and my family," Carl said. "There was a tax advantage when a large amount of money came in [from the sale of Baxter Machine]," Carl pointed out.
Although Carl told Juniata that they could use his money how they saw fit, the College chose to use the funds at the Juniata College Center for Entrepreneurial Leadership (JCEL) and Carl notes his pleasure with their decision. He was even asked to be on the Board of JCEL.
"Thirty-three years later, I am wondering now what I want to do," Carl laughs. His answer is to aide other people in using their own innovation through JCEL. "I like to see other people use their innovation, to create products and services that will help," he concludes.
Innovation can enhance anything, be it Carl's business or a car. Take the supercharger. When added to your car's crankshaft, this add-on increases the oxygen, fuel, and consequently the power output of a car's engine. In other words, extra power requires only connection and a component that is a little different, a little customized. By establishing a Charitable Lead Trust, Carl Baxter supercharged Juniata.
In the lobby of Baxter Machine Products, certificates of community service appreciation from Huntingdon County PRIDE, United Way, Huntingdon County Business and Industry, Juniata and more hang above cases of nuts, bolts and screws that are the connecting pieces of machines. How fitting that Carl has also worked to connect Juniata students, Huntingdon entrepreneurs and his family in an impressive, far-reaching and intricately mechanized contribution.
In his retirement, Carl is keeping his hands and mind busy developing products for A.C. Henry Company, Inc., a resource management company he has created. He's also restoring a 1934 Dodge. Because of his Charitable Lead Trust, the intricate connection he has created at Juniata will last beyond his lifetime. And during that lifetime Carl's plans are very clear.
"I'll be busy forever," he concludes with a laugh.
Carl Baxter is using a Charitable Lead Trust to help Juniata. Charitable Lead Trusts are only one type of planned giving. What is
"planned giving?"
The term refers to making charitable contributions that require arrangement in advance, often with financial planners and commonly involving wills, trusts, or annuities. Most people are surprised at what they can do with planned giving. Good plans incorporate retirement income, family inheritance, and charitable interests in a balanced overall financial plan.