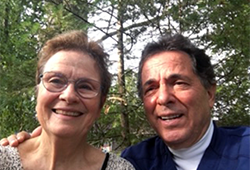 "It is in giving that we receive." St. Francis of Assisi's words have shaped the way Pat '66 and Lois (Weader) '67 Bruno live, and inspired the couple to make a gift to support the education of students interested in medicine.
The Pat '66 and Lois '67 Bruno Endowed Scholarship for Pre-Medical Students will be awarded to a third-year, pre-medical student enrolled at Juniata, who is following a non-traditional pre-medical degree path.
"Lois and I feel that Juniata has been so monumentally influential in our lives that we wanted to establish a scholarship in perpetuity," said Pat. Now a full-time general pediatrician and child abuse pediatrician with Geisinger Medical Center, director of the Division of Child Safety and Advocacy, and Medical Director of the Children's Advocacy Center of the Central Susquehanna Valley, Pat arrived at Juniata following his graduation from Altoona High School. His interest in the College was piqued by the knowledge that Juniata was strong in the sciences and their impressive number of alumni accepted at graduate and medical schools.
A graduate of Selinsgrove High School, Lois followed in the footsteps of her mother, aunt, and many other relatives who studied at Juniata. Following her graduation from Juniata, Lois earned her master's degree in social work. She has retired from a career in counseling, and is now a full-time quilter and very active in her church and in local, state, and national politics.
At Juniata, the Brunos' found love, lifelong friends, and a shared passion for the arts. Pat has an enduring interest in the works and life of Michelangelo and creates whimsical metal sculptures from reclaimed metal. Lois expresses her creativity through her quilting. "We need to buy another property to house the sculptures and the quilts," Pat said.
They remain close friends with Peter Grandy, Pat's roommate during his four years at the College, who went on to serve in ministry at an inner-city United Church of Christ Church in Hartford, Connecticut. Pat credits Jim Lehman, a classmate "wise beyond his years," as one of the reasons he survived and thrived while taking Great Epochs of World Cultures, taught by Betty Ann Cherry and Steven Barbash. This class also made an indelible impression on the young man who would one day trek the Camino de Santiago using the Portugal route as well as the Via Francigena from Sienna to Rome, and who has walked from Rome to Ravenna, Italy.
The Brunos have worked to instill the peace-filled tenets of Elmer Maas, who taught philosophy at Juniata from 1962-1968 as they reared their two children, Carrie and Christopher, sharing stories about the professor who organized students to participate in the 1965 Selma-Montgomery voter registration drive. As Pat so eloquently stated from Longfellow, "The lives of great people remind us that we can make our lives sublime, and departing leave behind us, footprints on the sands of time." Their experiences at Juniata are now shared with their six grandchildren as well.
The gifts they provide to their alma mater, annual support to the Juniata Scholarship Fund, the creation of an endowed scholarship, and a planned estate gift to support that scholarship, continue the legacy of philanthropy Pat and Lois experienced first-hand at Juniata.