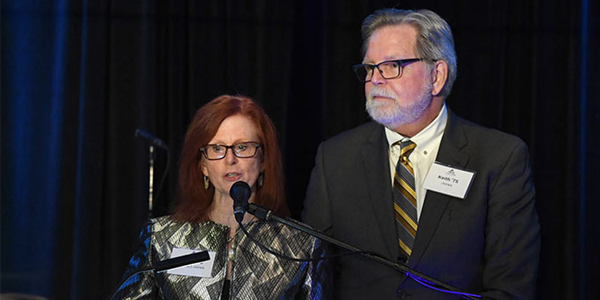 Keith '75 and Elaine '76 Jones found love at Juniata, for each other, and for the College itself.
"It was love at first sight for me, but it took Elaine a little bit of time," Keith says, laughing as he described their initial meeting at a Christmas party on campus.
"Now nearly 45 years later, giving back to help others is a moral imperative for us. We've gotten so much from Juniata College as students and now as alumni. We believe the college has so much to give to future students and we wanted to be part of the equation to help ensure that Juniata can thrive to deliver on its mission," says Keith and Elaine.
Juniata was the right choice for Keith from the start. Despite his parents' encouragement to consider other schools, once on campus, Keith, originally from St. Louis, Missouri, and later New Jersey, was struck by how well the College fit his individual learning style. He rapidly found an academic path that resonated with his aptitude in the business and accounting programs.
Initially interested in Penn State, Elaine traveled from her central Pennsylvania home to Juniata, where a personalized approach made all the difference.
"The tour guide at Juniata sealed the deal!" Elaine says. "At Penn State, my parents and I were pretty much left on our own. My father liked Juniata because I received personalized attention and a good financial aid package that made it possible for me to attend."
Immersed in the sciences, she found herself pleasantly surprised by the rigorous academics and the close interaction students maintained with members of the faculty.
That close interaction with faculty would prove a pivotal influence in both of their lives. The late Doris Goehring, professor of speech and theatre, was a mentor to Elaine and, Robert Zimmerer, Charles A. Dana Supported Professor of Biology Emeritus, was her adviser and encouraged Elaine to consider graduate school - a key decision in her career path.
"My roommates were also very influential," says Elaine. "I was more introverted when I came to college, but ended up getting involved in a lot of activities at Juniata with their encouragement."
Keith's advisers were James Lakso, provost and professor of economics, and Doris Goehring as well. Keith felt that this combination of "right brain, left brain" perspectives fit his diverse interests and helped shape his career both at Juniata and beyond. Keith points out that the saying "It takes a village," rings true for him. Lakso, Charles "Bud" Wise III, former professor of accounting, and the late Ronald Cherry, professor of economics and business administration, guided Keith with their encouragement and sage advice. He found additional mentors through his extracurricular pursuits-Bill Berrier as his wrestling coach, Bruce Hersh as choir director, and Jack Troy in the pottery shop. All were pivotal in his success at Juniata.
"Of course, Elaine had a great impact on me, too," Keith acknowledges.
Their son, Christopher, followed their lead and attended Juniata, enticed by the academics and the opportunity to play volleyball with a nationally-ranked Division III team. Like his parents before him, he also found love at Juniata. His wife, Angela Montag Jones, shared his interests in politics and history, leading them both to become lawyers. She also played women's volleyball, further cementing their relationship in their love of this sport.
Knowing what the College has meant to them and to their son and daughter-in-law, Keith and Elaine wanted to share the opportunity of a Juniata education with others. First they established a scholarship fund supported by their annual giving. Then, as part of the BELIEVE campaign, Keith and Elaine made a significant gift to support undergraduate research through a planned estate gift.
"Education is a key component in changing a person's life. I received scholarships when I came to Juniata and I want to pay it forward," says Elaine. "My scientific education served as a strong basis for my career but I realized that the ability to conduct independent research as an undergraduate is a real differentiator. Keith and I feel strongly that enabling Juniata students to have research experience will position them for greater success after graduation."
While laboratory proficiency was core to Elaine's career, the research opportunities available through this scholarship are open to everyone on campus and are not limited to the sciences.
The Jones' service to the College is longstanding. Elaine has served on the Board of Trustees and Keith has served as a member of the Alumni Council. Both are currently co-chairs for the BELIEVE campaign, which is in the final year of the largest giving campaign in Juniata's history.
"Juniata changes lives. Giving provides an opportunity for other students to get a quality education like we did," Keith says. "And there are many different ways to support the College, regardless of your ability to give."
The Joneses credit Juniata with teaching them to be problem solvers, a quality which has served them well throughout their diverse career choices. Keith and Elaine share this perspective with potential donors, encouraging them to think about how their time at Juniata enabled them to think and prepare for the future. Planned giving is an easy way to leave your legacy at the College that can change the lives of many worthy students going forward.